Pork, boar, truffles and some very special lentils – of all the regions in Italy, Umbria offers some of the best food and drink in the country. Discover the ingredients, dishes and flavours that make this part of central Italy a gastronome's paradise.
 
It's small, the only Italian region without a coastline or international border and covered in dense forest and hilly terrain. But Umbria, the 'green heart' of Italy, is home to more culinary treasures than many of its larger, more well-travelled neighbours.
The region, which borders Tuscany, Marche and Lazio, is divided into two provinces; Perugia in the north (which is also the name of the region's capital city) and Terni in the south. There are mountains to the east but the majority of Umbria is made up of hills thanks to the Tiber Valley (Val Tiberina) and the Umbria Valley (Valle Umbra). Lake Trasimeno, in Perugia, is one of Italy's largest lakes, and is surrounded by vineyards, olive groves and farmland thanks to the fertile soil. This combination of Apennine foothills, beautiful medieval hill towns and vast swathes of woodland make Umbria one of the most beautiful regions of central Italy.
Despite this, Umbria is still overshadowed by nearby Tuscany and Lazio when it comes to international attention. But there are a growing number of food-obsessed tourists visiting the region for its incredible cuisine. Towns and villages like Norcia, Orvieto, Montefalco and Trevi are renowned for producing some of Italy's best foods, olive oils and wines, and they're starting to attract intrepid foodies from far and wide.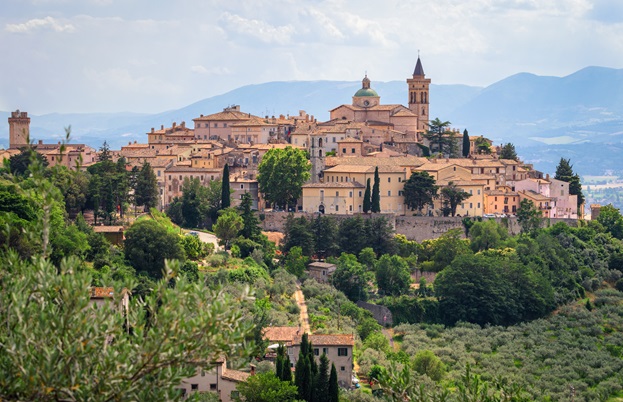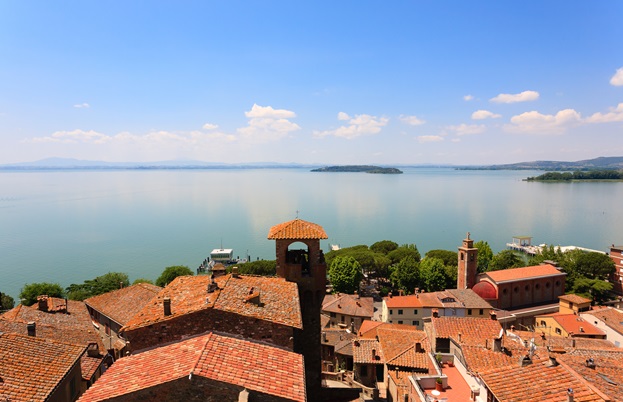 Ingredients and flavours
Above all else, Umbria has a reputation for producing some incredible cured meats, made from pork and wild boar. Its forests are also home to an incredible number of truffles, which are grated with aplomb over everything. But as with any region of Italy, the local food culture is rich with all sorts of other products and flavours. Here are the most iconic ingredients found in Umbria.
Meat and fish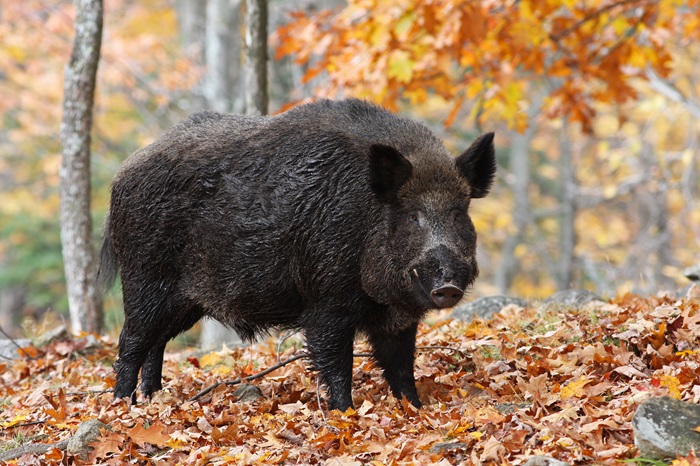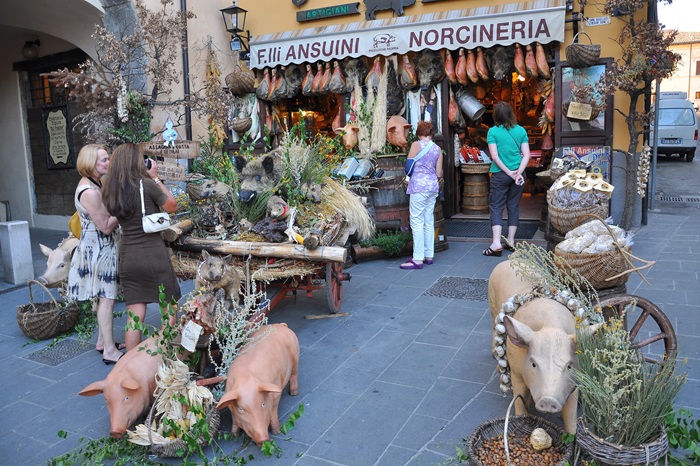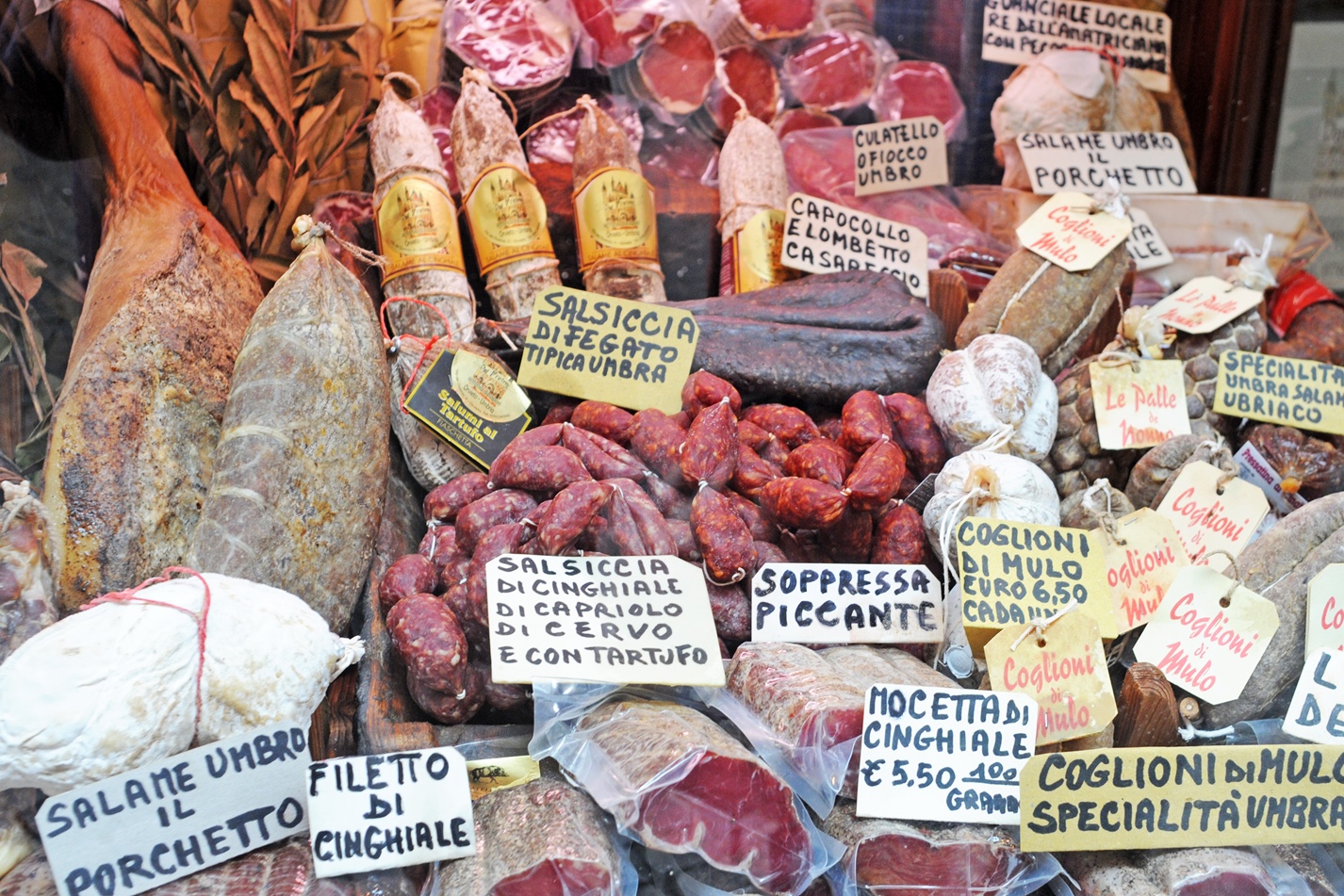 Pork, pork and more pork. Umbria's vast oak forests means there are plenty of acorns for snaffling pigs to feast on, which flavours the meat and makes it some of the best in the country. The small town of Norcia, near the Marche border, is famous for its norcinos, artisanal butchers of impeccable skill that cut and cure pork better than anyone else in Italy. Wild boars also roam free in the more remote parts of the region, and hare, roe deer and game birds are highly prized amongst both chefs and home cooks. Sheep farmers exist in the area too, but beef reared in Perugia province is particularly famous and boasts PGI protection.
While Umbria has no coastline, the vast Lake Trasimeno provides plenty of freshwater fish. Perch, eel, carp, pike, tench and smelt are caught and simply cooked over fire or turned into stews.
Truffles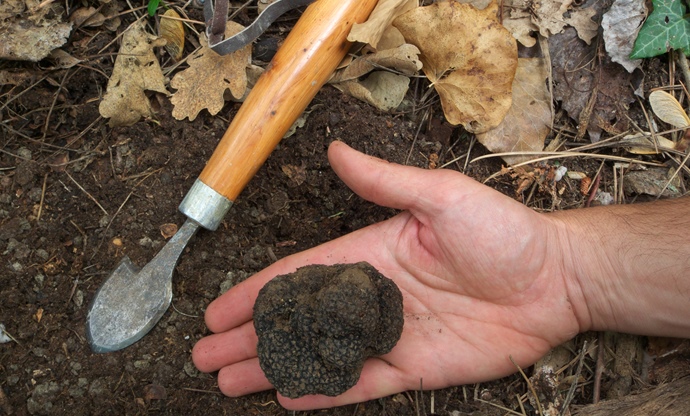 Umbria produces more black truffles than any other part of Italy, which is why you will see them featured on almost all restaurant menus. They can be found year-round but are at their best and most prolific in the summer months. Particularly lucky truffle hunters can also find white truffles in the winter, which can fetch a very high price. The vast Umbrian woodland is also home to plenty of wild mushrooms, and many locals will venture into the forests with a basket to find different varieties, of which the porcini is the most coveted.
Vegetables and pulses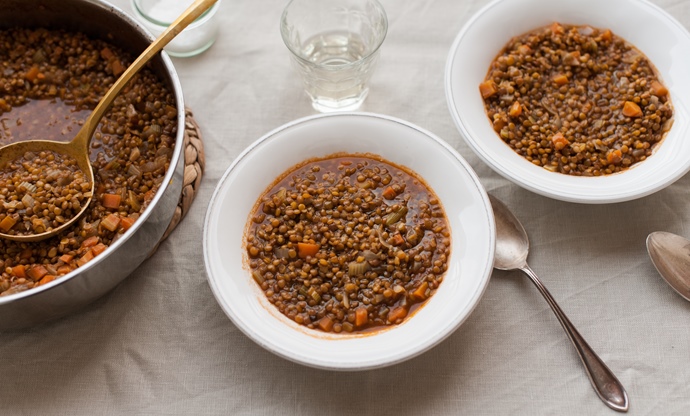 To the east of Norcia, the Castelluccio valley is home to what many chefs regard as the best lentils in the world – Castelluccio di Norcia. They have PGI protection, are particularly tiny and have such thin skins they don't need to be soaked before cooking. Pulses in general tend to be more popular than pasta in Umbria; farro finds its way into soups and stews, while the ancient Fagiolina del Trasimeno bean is cultivated in the land around Umbria's magnificent lake by a few small producers.
Vegetables of all kinds are grown in the fertile soil around Lake Trasimeno, but the black celery of Trevi (which has IGP protection) has to be one of the most interesting. It has much darker leaves than normal celery and a more pronounced flavour. Red Cannara onions are also highly prized; grown on small farms, the producers are known as cipollari and pass down their cultivation techniques through the generations. Both black celery and Cannara onions have their own festivals during harvest time in Umbria.
Cheeses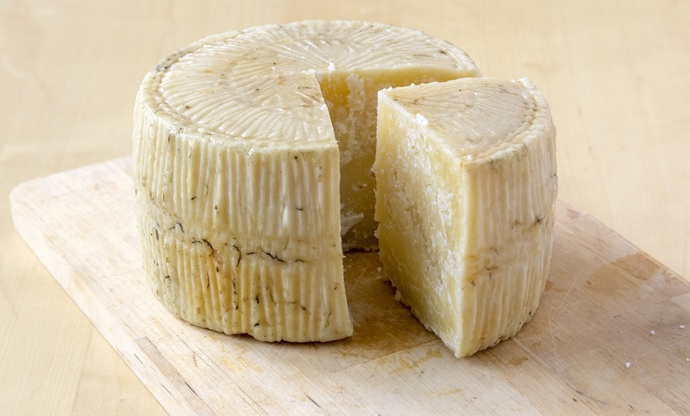 The cattle farmers of Perugia not only produce beef – they are also responsible for creating some of Umbria's most famous cheeses. Caciotta is arguably the most famous, matured for just twenty days to retain a light and soft texture, and can often be found flavoured with generous amounts of truffle. Even fresher is Raviggiolo (which can also be made with goat or sheep milk and is found throughout the Tuscan-Romagna Apennines) which must be eaten within a week of being produced. Salted ricotta is also made locally, as is Pecorino di Norcia, a sheep's milk cheese that's aged for at least two months (sometimes underground on a bed of local herbs) that is firm enough to be grated over dishes.
Wines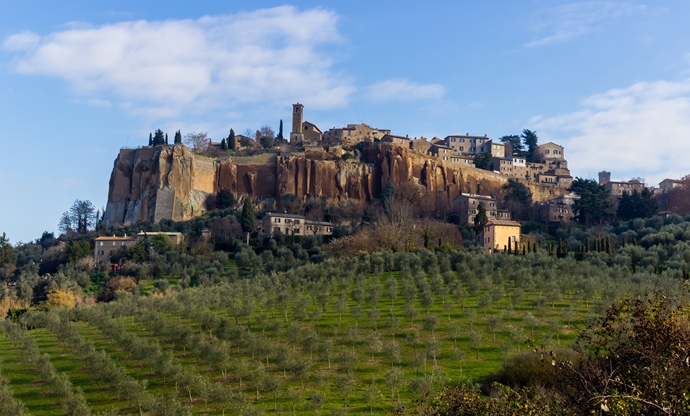 For such a small region Umbria produces a surprisingly large number of different wines, but there are three that it is most famous for. The vineyards around the village of Orvieto produce nearly all of Umbria's wines, the most famous of which are dry, crisp Orvieto whites. Montefalco is a hill town that's home to the Sagrantino grape, which has DOCG status and is responsible for some incredible deep, plummy reds. Umbria is also famous for its Sangiovese grapes, which are often blended with Sagrantino to create a slightly lighter, fresher red wine. There is also Colli di Trasimeno, Colli Perugini and Torgiano, lesser known local wines that come in both red and white varieties.
Olive oil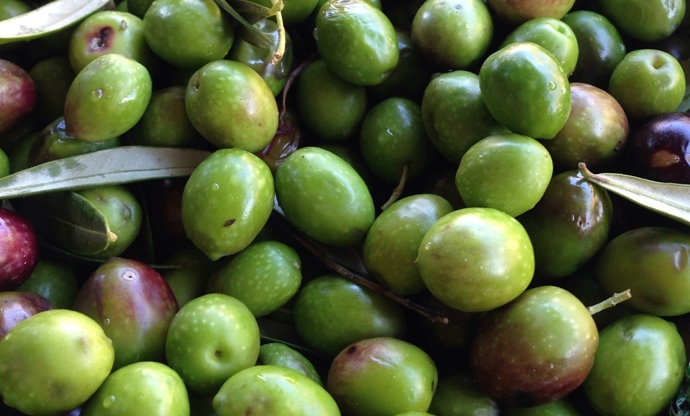 Umbria only produces around two percent of Italy's olive oil, but it is held in high regard (the region boasts five separate DOP-protected oils). The climate means the olives grow slowly and oil producers pick the olives when they just start to ripen – which is when they're at their fruitiest. This comes through in the flavour of the oil, which is often quite peppery and bright green in colour, too. The olive groves around Trevi are said to be the best.
Famous dishes
Salumi and cured meat aside, Umbrian cooks have a wealth of local recipes at their disposal. Whether they're working with the incredible pork, freshwater fish or pulses the region is famous for or harking back to the age of cucina povera, these are the dishes that make Umbria a thriving foodie hotspot.
Porchetta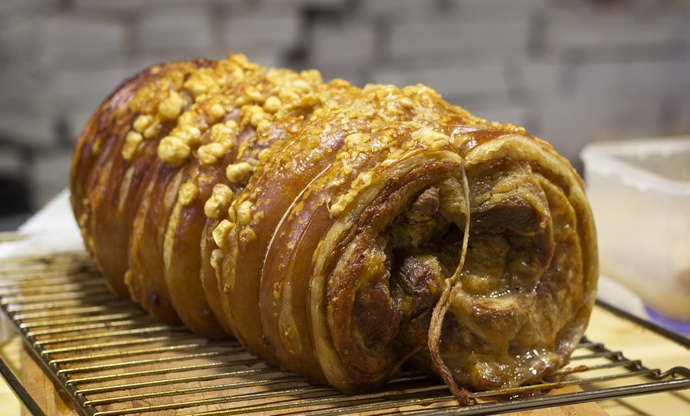 You can find porchettai – chefs in vans selling porchetta sandwiches – all over Italy, but Umbria is where the delicacy originated and it remains the best place in the country to pick one up. It involves taking a whole gutted pig and stuffing it with pork offal flavoured with lots of salt, pepper, fennel (an ingredient most associated with Umbrian porchetta) and garlic. It's then rolled and tied up and spit-roasted slowly over several hours. The result is a combination of rich filling, soft juicy meat and crunchy crisp crackling. It's then sliced up and stuffed between two slices of bread.
Torta al testo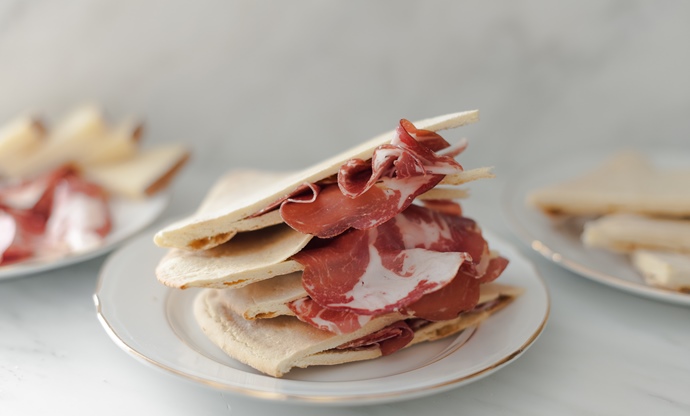 This is Umbria's very own flatbread – a simple combination of flour, water, salt and olive oil. It gets its name from the surface it's cooked on, known as a testo, which was originally a circular flat stone heated over fire (but now comes in the form of a wide pan). Today many Umbrians add a little yeast or bicarbonate of soda to the mix to add volume, and it is either served alongside rich meaty stews to mop up the sauce or turned into a sandwich, stuffed with wild greens, cheese and cured meats.
Pasta alla Norcina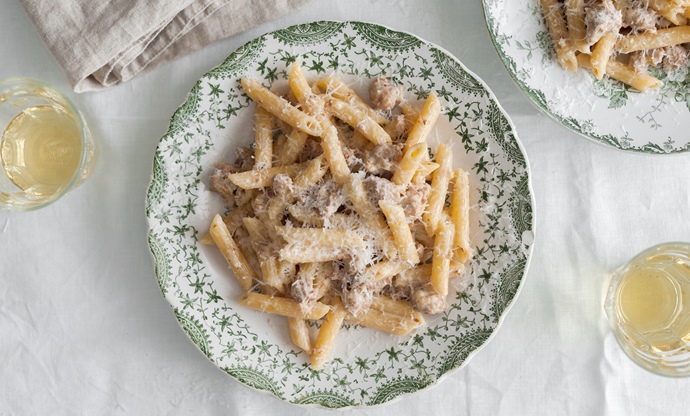 As a town famous for its sausages and salumi, it's not surprising that Norcia's most popular pasta dish features sausage meat. It also often contains local mushrooms of plenty of grated truffle – two more of Umbria's most famous ingredients. The sauce itself is cream-based, and includes a good glug of white wine (usually Orvieto). The pasta generally paired with this sauce is either penne or local strangozzi (which is like a rectangular spaghetti). Note that there is another local pasta dish, pasta alla nursina, which combines black truffles with anchovies.
Crostini al tartufo all'Umbra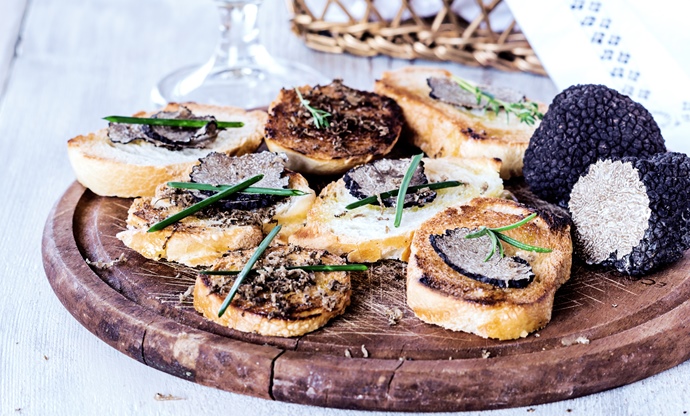 One of the most popular antipasti in Umbria makes use of its bountiful truffle harvest. Grated black truffles are pounded into a pasta with local olive oil and umami-rich anchovies, which is then spread on small slices of crusty toasted bread.
Tegamaccio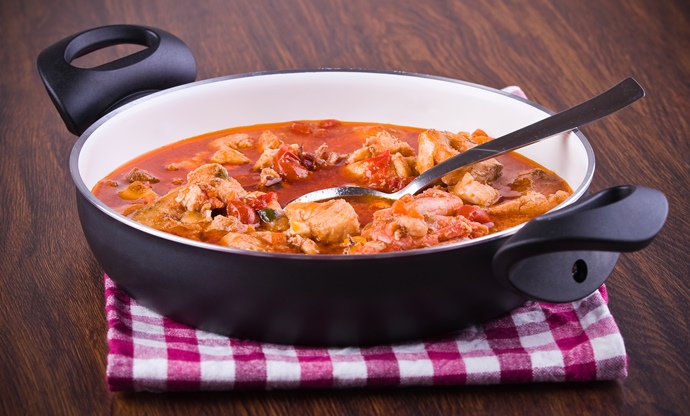 The freshwater fish of Lake Trasimeno (and, to a lesser extent, Lake Chiusu and Lake Montepulciano) are generally cooked whole over fire or cooked in soupy stews like tegamaccio. Any combination of fish can be included, although it's usually perch and eel that appear, and the sauce is made of a combination of garlic, celery, white wine and chopped tomatoes. The sauce is left quite soupy and liquid – perfect for mopping up with a few pieces of torta al testo.
Colombaccio
Originally from Terni, this is a dish that perfectly epitomises Umbria's love affair with game birds. Colombaccio is a common wood pigeon, and the traditional Umbrian way of cooking it is on a spit, slowly roasted over fire. Many Umbrian game dishes are cooked with salsa ghiotta, an oily loose sauce heavily flavoured with the livers of whatever bird or animal is being cooked. This method is used for all sorts of game birds, with wild doves (palomba) being the most sought after.
Torcolo
The Umbrians don't tend to go for many sweet dishes and desserts, and almost all that exist are associated with religious festivals and ceremonies (although Perugina, the company that produces Baci – a chocolate often given during Italian Valentine's Day – is based in Umbria). The most famous Umbrian cake however is Torcolo, a seventeenth century ring-shaped delicacy flavoured with pine nuts, raisins, citrus peel and candied fruits. It's generally baked and eaten on 29 January for the Feast of St Costanzo – the patron saint of Perugia.